Chiswick Book Festival 'Extras' - 2011
Festival 'Extra' 4: SavourChiswick, Waterstones, 11am, July 2nd 2011
Festival 'Extra' 3: Kate Slater, Chris Wormell
10am, June 18th 2011, St Michael & All Angels Parish Hall
10am: Children helped Kate Slater to decorate Magnus Magpie with sparkly treasure, using the collage technique she uses in her beautiful book, Magpie Treasure. Kate is pictured (right) with Radio 2's Jeremy Vine, who was there with his children.
11.15 am: They then enjoyed book readings, illustration and craft activities with Chris Wormell, author of One Smart Fish and
Scruffy Bear and the Six White Mice.

The Children's Book Festival in June 2011 formed part of the Bedford Park Festival.
Festival 'Extra' 2: Fatal Colours by George Goodwin
7-8.30pm, March 24th 2011.
The author of this account of England's most brutal battle was in conversation with Tracy Borman, at Waterstones, Chiswick High Road.
Festival 'Extra' 1: An Evening with Rosamund Lupton,
6pm, Thursday January 27th 2011.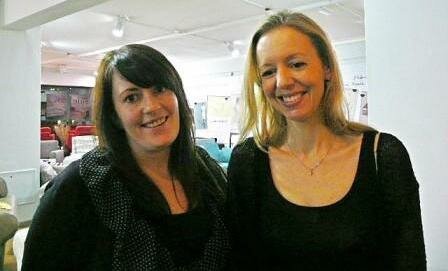 Rosamund Lupton (right, with Andrea the manager of
SofaWorkshop in Chiswick, who hosted the event)

Over refreshments, at a highly enjoyable evening in SofaWorkshop, the Chiswick author of 'Sister' - the Sunday Times and WH Smith best-seller - discussed her work and answered questions. She also signed copies of Sister and read an extract from her follow-up novel, Afterwards, which will be published in June 2011.
You can read how Rosamund's Chiswick friends helped her top the book charts in this Evening Standard article.